"Transportation Credit Card" by Corp Cru
Corp Cru humorously expresses the establishment's effort to offload vehicle inventory and ensnare consumers through the Transportation Credit Card. 24″H x 42″W silkscreen acrylic on canvas.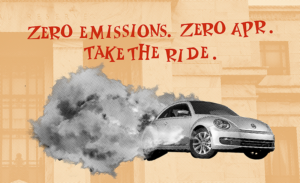 The car we drive says everything about who we are and what we aspire to be. Some play and drive safe. Some drive as fast as they can beyond their financial means and go any distance to be who they want to be, which is sometimes who they are not. The corporations who play a role in "driving" the consumer to nirvana earn billions selling cars and lending the cash.
The Transportation Credit Card refers the Corporation player to remove the polished aluminum defective VW Bug or "Transportation Ailment" from Janet Yellen on the 8′ x 4′ Corporation by Corp Cru game board. Remove it without touching the sides of the Transportation Ailment cavity and you'll cause your opponent to miss a few payments sending them further into the spiraling morass of indebtedness at an escalated APR. Touch the sides of the Transportation Ailment cavity with the 24″ aluminum tweezers and the Federal Trade Commission could force you to recall the whole line of vehicles and pay restitution to your opponent forcing you to pre announce a catastrophic write down and also cause alarm to Janet Yellen.