"Corporation" by Corp Cru
Corp Cru has created a series of 50 original works titled "Corporation" depicting a hilarious parody of a view from the Bitcoin Blockchain of the cost of living and life under the centralized corporatocracy confined in a provocatively expressed immersive exhibition.

Corporation is a series of 50 original mixed media works that features Former Federal Reserve Chairman Janet Yellen as the subject of an immersive and familiar game exhibit where players draw cards and take pieces from her.
Corporation expresses Yellen's daunting task of balancing economic equilibrium and all of its inherent implications in the pursuit of economic freedom for corporations and enslavement for consumers in a hilariously expressed, highly provocative and parodic view from the Bitcoin Blockchain of the cost of living confined within a traditional and familiar board game.
Click on an image to read a summary of its representation within the exhibit.
[Not a valid template]The "Debit Cards" and "Credit Cards" are a series of twenty-four 24" x 42" canvas renderings expressed in controversial fashion from two perspectives; the establishment on the left, representing a system governed by the Federal Reserve and dominated by the corporatocracy; and the prospect on the right of a new constitution; an alternative peer to peer monetary system visually expressed through the Bitcoin Blockchain.
Each Credit Card renders an image of the corresponding twelve sculptures that represent elements of the cost of living as well as controversial public and social issues. Players have the chance at freedom from economic enslavement by successfully removing one of the twelve 8"-10″ polished aluminum sculptures from Chairman Yellen's body on the 8' x 4' mixed media game board.
Formerly the chief of the largest, most powerful monetary institution on earth, Yellen faced pressure from Consumers, Congress, the White House, the banking industry and the corporatocracy. Now she is widely expected to be a pick for the United States Treasury Secretary, as the USA prepares for a four-year money printing bonanza! Money printer go brrr!!
As players draw "credit" and "debit" cards to take pieces of her, she is rewarded with beauty and an opportunity for pleasure.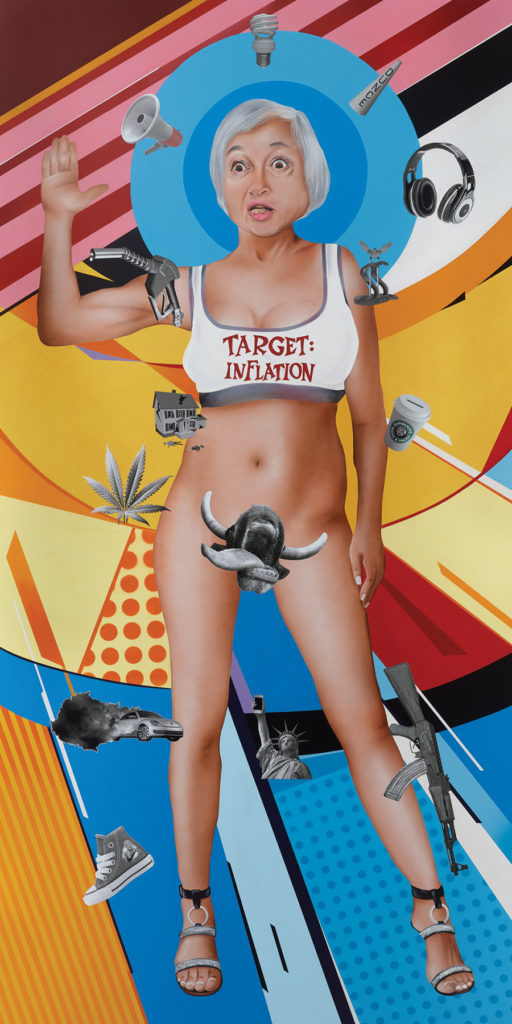 Each Debit Card is a representation of true socioeconomic freedom as the blockchain disrupts every facet of payments and commerce.
For those who are cryptographers, an encrypted phrase exists in the Debit Cards which has yet to be decrypted. Not even Stuart Haber and Scott Stornetta have decrypted it.
Anyone who successfully decrypts the phrase will receive a set of prints of the Debt Card and Credit Cards and a set of NFTs of the entire exhibit.
[Not a valid template]Touching the metal sides of the cavity containing the sculptures with the 24" tweezers plays a unique sound and lights up Yellen in a provocative manner.
Each of the twelve polished aluminum sculptures within the game board represent the largest elements of the cost of living as well as some of the most controversial social and political issues. Each sculpture is also replicated in polished bronze, mounted separately on black marble.
[Not a valid template]Corporation renders a provocative and hilarious immersive expression of socioeconomic and political issues and provides players opportunity for reclamation and freedom from socioeconomic enslavement, as incoming Treasury Secretary and former chair of the Federal Reserve Janet Yellen and her band of money printers begin to strip away any value you have left in your pocket.
Money printer go brrr means Bitcoin go boom!