"Communications Credit Card" by Corp Cru
Corp Cru expresses the observation of how liberties are being stripped away by the establishment, through the Communications Credit Card. 24"H x 42"W silkscreen acrylic on canvas.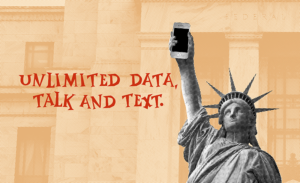 It's a shame. Terrorists sent by nations who want to be free from the extorts of U.S. foreign policy like the ones we described in Fossil Fuels have prompted liberals to say; "I have nothing to hide", in response to fourth amendment crushing "Patriot Act" government legislation allowing the search for chatter over the airwaves and IP addresses of every cell phone and internet connection. You may not have anything to hide but you may want to think twice about how you say what you don't have to hide, for the Patriot Act could be the next step in the government's playbook of tyranny.
The Communications Credit Card refers the Corporation player to remove the polished aluminum Lady Liberty Bust or "Communications Ailment" from Janet Yellen on the 8′ x 4′ Corporation by Corp Cru game board. Remove it without touching the sides of the Communications Ailment cavity and you'll pass precedent setting legislation gaining access to the data of every device on the planet. Touch the sides of the Communications Ailment cavity with the 24″ aluminum tweezers and you'll set an opposing precedent reaffirming the people's right to not only bear arms but to storm government, sending Janet Yellen back to Fort Hamilton, Brooklyn, where she'll be safe.