"Fashion Credit Card" by Corp Cru
Corp Cru humorously expresses the establishment's fascination with Maoism through the Fashion Credit Card. 24"H x 42"W silkscreen acrylic on canvas.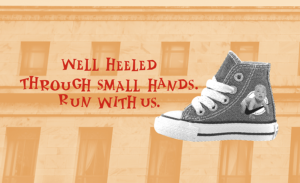 Our culture is obsessed with fashion and we consume it faster than we can outsource the labor that manufactures it. Why make clothing here when we can get Chinese children to make it for one tenth of the cost! Wait; what trade war? While it does make economic sense, it doesn't help the middle class as the dollars saved by corporations fatten their earnings, sending stock prices higher which largely benefits the rich and further widens the wealth gap. Remember the termites we mentioned in Financial Services? But hey, if you look good, you feel good. Right? Just ask the kids who wait on line at Supreme for four days for a pair of those shoes! Hell, those shoes might just attract an invite to one of those master of the universe parties. You can then use those shoes to climb the social ladder. It might just land you in the lap of an opportunity to become part of the establishment! The Fashion Credit Card represents the chance for both sides to make the climb to economic freedom.
The Fashion Credit Card refers the Corporation player to remove the polished aluminum adolescent sneaker or "Fashion Ailment" from Janet Yellen on the 8′ x 4′ Corporation by Corp Cru game board. Remove it without touching the sides of the Fashion Ailment cavity and you'll curry favor with the Chinese who will hand over their military and teach you the basics of national enslavement as long as you continue to employ all the descendants of the Mao generation. Touch the sides of the Fashion Ailment cavity with the 24″ aluminum tweezers and you'll cause a catastrophic trade war forcing you to manufacture at home and hire the American workers you've been avoiding all these years which will turn Janet Yellen from a pious dove into a ravenous climaxing hawk.