Healthcare Credit Card by Corp Cru
Corp Cru expresses and observes the establishment's cunning and baffling efforts to cause dependency, through the Healthcare Credit Card. 24"H x 42"W silkscreen acrylic on canvas.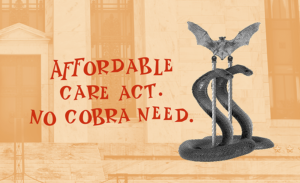 Let's face it. The Affordable Care Act is just another method of incarceration without due process. Don't we have rights? Yes. They're like Miranda Rights. You have the right to purchase an outrageously expensive plan on your own. If you can't afford it, one will be purchased for you, free of charge, sort of. So the US borrows more money to pay for your health plan and devalues the dollar once again sucking your blood and sending you further back to the projects. Only now you don't have a choice but to submit to IRS regulations that govern the collection of the premiums. As far as the wealth gap is concerned, let's look at how many new ailments are invented in order to create pharmaceutical opportunities to enrich shareholders. Now who will pay for these new drugs? The insurance companies! So let's jack the price of these new-fangled drugs so that insurance companies can charge more for health insurance premiums that the IRS is charged with policing the collection of! LOL! The Healthcare Credit Card represents the cure for common economic and political sense.
The Healthcare Credit Card refers the Corporation player to remove the polished aluminum deadly Caduceus or "Healthcare Ailment" from Janet Yellen on the 8′ x 4′ Corporation by Corp Cru game board. Remove it without touching the sides of the Healthcare Ailment cavity and you'll continue to perfect the collection by the IRS of overpriced health premiums while perpetuating the American Chemical Dependency Movement. Touch the sides of the Healthcare Ailment cavity with the 24″ aluminum tweezers and cheap Chinese herbs will suddenly be found to be a safe and effective cure for cancer, causing an implosion of biotech and big pharma, sending Janet Yellen into a dovish tailspin.