Food Service Credit Card by Corp Cru
Corp Cru expresses the establishment's cunning and baffling methods of grabbing your cash in advance through the Food Credit Card. 24″H x 42″W silkscreen acrylic on canvas.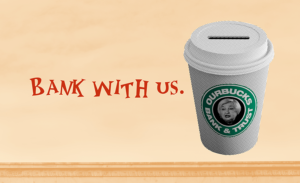 One of the most successful marketing strategies to convince customers to pre-pay for their product is the Starbucks App. Many other corporations in the food industry have unsuccessfully followed suit but consumers line up to top up their Starbucks App! So much so that Starbucks could be considered a bank. Withdrawals, however, can only be made in coffee!
The Food Credit Card refers the Corporation player to remove the polished aluminum coffee cup or "Food Ailment" from Janet Yellen on the 8′ x 4′ Corporation by Corp Cru game board. Remove it without touching the sides of the Food Ailment cavity and you'll cause your opponent to convulse as the result of severe caffeine dependency and consequently report a blowout quarter to ecstatic shareholders. Touch the sides of the Food Ailment cavity with the 24″ aluminum tweezers and you'll be found by every state AG to be operating an illegal depository institution forcing you to return double the deposits made by every customer and also cause alarm to Janet Yellen.